The project step by step
Stretch ceilings can be installed with minimum hassle:no moving of furniture, no dust and no noisy work … and an end result that a paint job alone could never hope to match.
CASE STUDY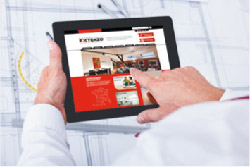 Your Extenzo specialist examines your existing ceiling on site, proposes the optimal solution as well as detailing the range of available options:colours, surface finish, built-in lighting, cable ducts …. and finally sends you a cost estimate shortly after.
PLAN AND MEASUREMENTS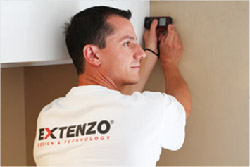 A plan is then drawn up for each room, accommodating ceilings of all shapes and unlimited angles, curves and levels. We then send the dimensions to the production facility using our dedicated Extenzo software.
MANUFACTURING OF THE STRETCH CEILING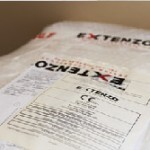 Each stretch ceiling is a customised product, with sections and joint connections manufactured precise to the millimetre and 10 days typically required for delivery (excluding printing and any special membrane).On request and under special circumstances, however, swifter delivery may be possible.
FITTING THE RAILS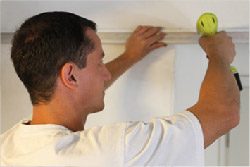 The surrounding holding rail is mechanically attached to the wall or ceiling (screws, dowel, staples).Stretch ceiling installations generally eliminate the need to clear away furniture.
FITTING THE ACCESSORIES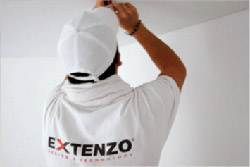 The next step involves sorting out the specific equipment features:columns, supports, flush ceiling spotlights, hanging lamps and illuminated ceilings, mechanical ventilation systems and smoke alarms …
CLEAN/FAST INSTALLATION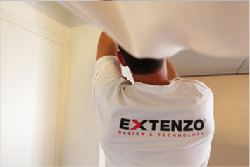 During assembly, the procedure of anchoring the ceiling into the runners involves raising the room temperature slightly to help soften the stretch ceiling.The ceiling then automatically retightens on cooling.
UPGRADABLE CEILING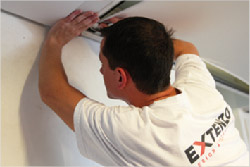 You can then install a light source, alarm system or cable.The EASYDECLIC system makes it simple for your authorised dealer to remove and then re-install your Extenzo stretch ceiling at any time.